Deprecated
: preg_replace(): The /e modifier is deprecated, use preg_replace_callback instead in
/home/internetindia/public_html/travel/wp-includes/formatting.php
on line
82
Deprecated
: preg_replace(): The /e modifier is deprecated, use preg_replace_callback instead in
/home/internetindia/public_html/travel/wp-includes/formatting.php
on line
82
Strict Standards
: Only variables should be assigned by reference in
/home/internetindia/public_html/travel/wp-includes/post.php
on line
117
Strict Standards
: Only variables should be assigned by reference in
/home/internetindia/public_html/travel/wp-includes/post.php
on line
117
Strict Standards
: Only variables should be assigned by reference in
/home/internetindia/public_html/travel/wp-includes/post.php
on line
117
Strict Standards
: Only variables should be assigned by reference in
/home/internetindia/public_html/travel/wp-includes/post.php
on line
117
Jaipur attracts thousands of tourists from across the world. Since it's a major tourist centre, there's no shortage of Jaipur accommodation to choose from. Jaipur hotels cover a range from swanky accommodation in the former palaces of Maharajahs to budget hotels with the most basic of amenities. There are many Internet sites that offer Jaipur hotel booking.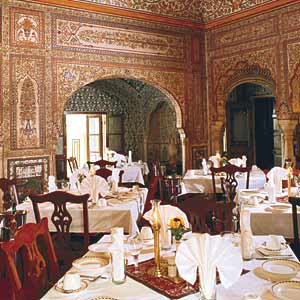 Title: Samode Haveli Lodge Hotel - Dining Area
If you're looking for a holiday in the lap of luxury, there are lots of Jaipur hotels that offer deluxe amenities. There's no better way of feeling like a king than to stay in one of the palaces converted to heritage hotels. These include the Jai Mahal Palace, Shiv Vilas Palace, Ramgarh Lodge and Umaid Bhavan. These offer the best of modern conveniences plus an old-world charm that will make you feel right at home. Jaipur accommodation also includes a lot of smaller havelis and heritage houses that also offer a great atmosphere.
If you don't have a huge budget, there are plenty of economy hotels in and around the city. Most of these offer reasonably decent accommodation at an affordable price. The bed & breakfast idea is also catching on in Jaipur, with many families letting out rooms for visitors. Rajasthan is renowned for its hospitality, and spending time with a local family is the best way to get a feel of the local atmosphere. If you want to go rustic, you can stay in a farm house on the outskirts of the city.
For backpackers, there is also the option of hostels, most of which offer dormitory accommodation. There are indeed many accommodation options in Jaipur to suit every pocket. You can get really good deals over the Internet. The best way of getting them is to make Jaipur hotel booking online.
Related posts: