Deprecated
: preg_replace(): The /e modifier is deprecated, use preg_replace_callback instead in
/home/internetindia/public_html/travel/wp-includes/formatting.php
on line
82
Deprecated
: preg_replace(): The /e modifier is deprecated, use preg_replace_callback instead in
/home/internetindia/public_html/travel/wp-includes/formatting.php
on line
82
Strict Standards
: Only variables should be assigned by reference in
/home/internetindia/public_html/travel/wp-includes/post.php
on line
117
Strict Standards
: Only variables should be assigned by reference in
/home/internetindia/public_html/travel/wp-includes/post.php
on line
117

Source: http://www.indiana.edu
In spite of all the modernity that Hyderabad has imbued itself to keep its cultural roots intact inspite of all the modernity that prevails today in this city. The language, the architecture, the way people live; every thing will remind you of the strong cultural background of the city and why it is called the City of Nizams. Some of the popular Hyderabad tourist attractions include Chowmahalla Palace, Purani Haveli, Salar Jung Museum and Falaknuma Palace.
Though all these places are must visit for every tourist, the one that is by far the most popular of all Hyderabad tourist attractions is Charminar, the monument of four minarets. There are other Hyderabad tourist attractions and they include Golconda Fort, Taramati Baradari, Mecca Masjid, Birla Mandir, King Kothi Palace and Hussain Sagar.
Hussain Sagar, a man made lake is famous because of the statue of Buddha in the middle of the lake. The statue is on a platform known as 'Rock of Gibraltar'.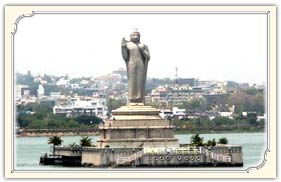 Source:http://www.hyderabad.org.uk
Other than these architectural marvels, Hyderabadi cuisine is also sought after. The Hyderabadi Biryani is acclaimed interanationally and is a gustatory reminder of the Mogul Era.


Source:http://www.d33pak.com
Related posts: