Deprecated
: preg_replace(): The /e modifier is deprecated, use preg_replace_callback instead in
/home/internetindia/public_html/travel/wp-includes/formatting.php
on line
82
Deprecated
: preg_replace(): The /e modifier is deprecated, use preg_replace_callback instead in
/home/internetindia/public_html/travel/wp-includes/formatting.php
on line
82
Strict Standards
: Only variables should be assigned by reference in
/home/internetindia/public_html/travel/wp-includes/post.php
on line
117
Strict Standards
: Only variables should be assigned by reference in
/home/internetindia/public_html/travel/wp-includes/post.php
on line
117
Strict Standards
: Only variables should be assigned by reference in
/home/internetindia/public_html/travel/wp-includes/post.php
on line
117
Udaipur is one of the most picturesque places in the world, and a magnet for tourists, If you are on a tour of Rajasthan than you must visit Udaipur. Udaipur attractions include its picturesque beauty; the city is renowned for its lakes, palaces, and the lush hills of the Aravallis. Udaipur tourist places make a visit to the city a must. An Udaipur sightseeing tour can be quite an unforgettable experience indeed.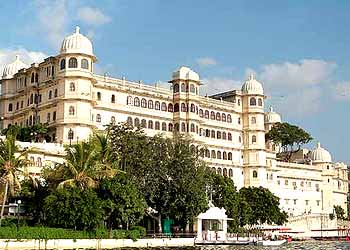 Title: Udaipur City Palace
Udaipur has an ancient history. It was the capital of the Kingdom of Mewar, ruled by the Sisodias. One of the major Udaipur attractions includes the City Palace, on the banks of Lake Pichhola. The palace offers panoramic views of the lake and Jag Niwas (now Lake Palace hotel), which is right in the middle of the lake. Other Udaipur tourist places include the Fateh Sagar Lake, which was built by Maharaja Jai Singh in 1678, and Sajjangarh Fort, the summer resort of the maharajahs, located on top of a hill overlooking the lake.
Other places that figure prominently on the itinerary of an Udaipur sightseeing tour are the Jag Mandir, another palace on an island on Lake Pichhola, the ancient Jagdish Temple right in the middle of the city, and Saheliyon Ki Bari, a garden with lotus pools, marble pavilions and elephant-shaped fountains.
A modern addition to Udaipur is the Udaipur Solar Observatory (USO), located on an island in the Fateh Sagar Lake. The clear desert air makes the city ideal for solar observations. The observatory was built in 1976 on the model of the Solar Observatory at Big Bear lake in Southern California.
There are other places of interest around Udaipur, like the pilgrimage site of Nathdwara, the Jain religious centre of Ranakpur, Chittorgarh, the ancient capital of Mewar, with a massive fort on a hilltop, Haldighati, renowned for the famous battle battle between Rana Pratap Singh of Mewar and the Mughal emperor Akbar etc.
Related posts: